Description
LOTUS is the L1 Orbiting Tracking and Uplink Spacecraft, a multi-purpose platform at the L1 Earth-Moon Lagrange point whose purpose is to provide high bandwidth communications relay, spacecraft tracking management services, and hosted payload opportunities.

With the Artemis mission, NASA aims to establish sustainable and long-term exploration of the Moon. Longer stays on the lunar surface and more complex missions will require more robust communications. The LOTUS communications system will greatly enhance communications capabilities and will reduce the dependency on current systems such as the Deep Space Network.

As more spacecraft head to cislunar space in the coming years, LOTUS will provide a solution to space traffic management in the form of its phased-array radar. Tracking services will aid the United States Space Force, protect NASA assets, and provide collision avoidance.

Additionally, with the retirement of the ISS by 2031, there will be a demand for a replacement science spacecraft. LOTUS's payload hosting ability will lower the barriers of entry and enable multiple teams from a variety of disciplines to make use of its cislunar location. The Payload Onboard Docking (POD) system features unprecedented services: a nearly uninterrupted high speed laser link, Earth-like data speeds from the lunar surface, and continuous observation cislunar space.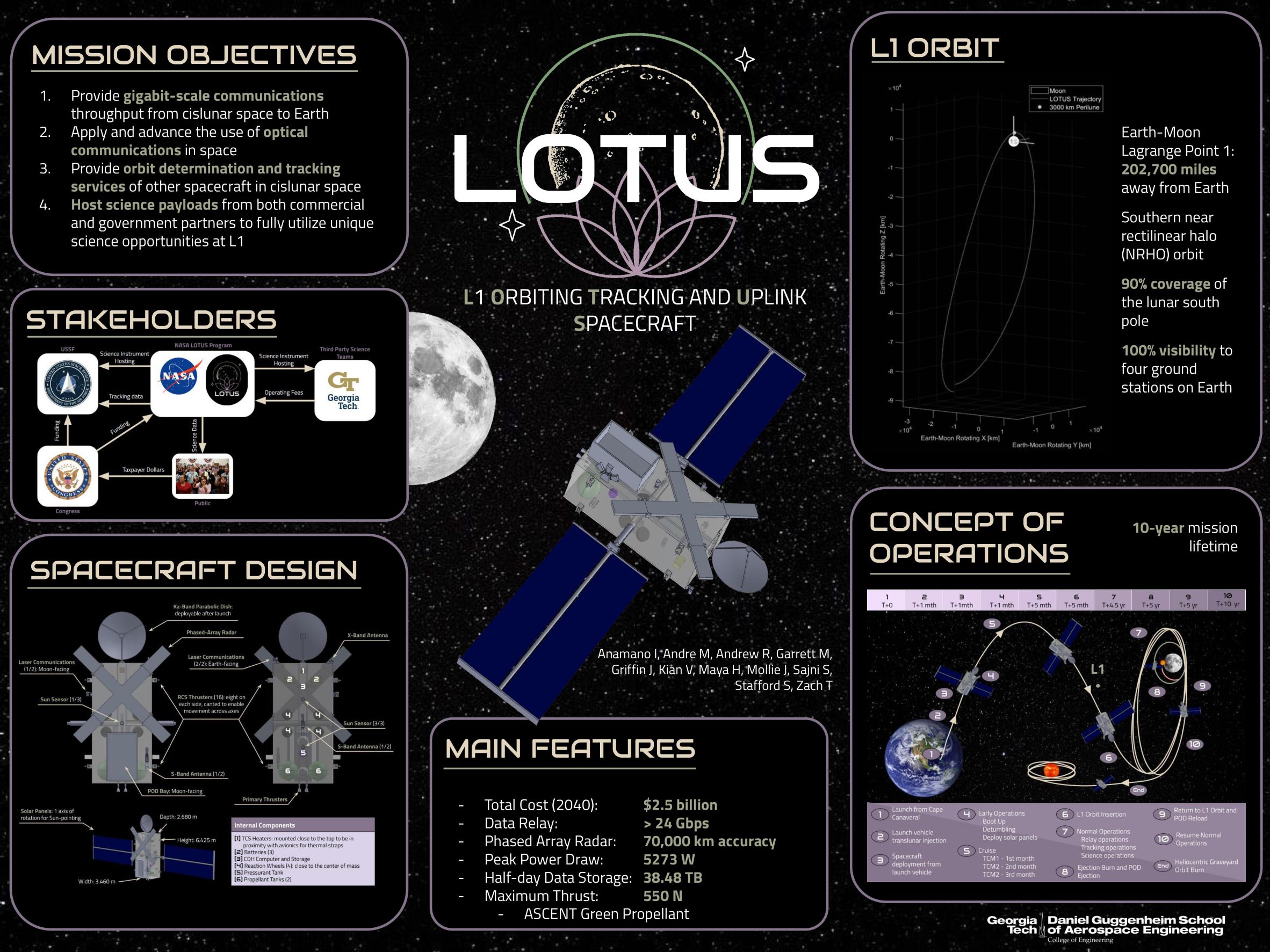 | | |
| --- | --- |
| Department | Aerospace Engineering |
| Sponsor | N/A |
| Advisor | Dr. Alvaro Calvo |
| Primary Email Contact | mjohnson467@gatech.edu |
| Table # | B22 |
Members
| Name | Major | Hometown |
| --- | --- | --- |
| Anamano Ikoh | AE | Atlanta, GA |
| Andre Magyar | AE | Athens, GA |
| Andrew Regan | AE | Northbridge, MA |
| Garrett Mathesen | AE | Temple, TX |
| Griffin Jourda | AE | Portland, OR |
| Kian Vilhauer | AE | Wayne, NJ |
| Maya Hasumi | AE | Tokyo, Japan |
| Mollie Johnson | AE | Westmont, IL |
| Sajni Saravanan | AE | Overland Park, KS |
| Stafford Saxton | AE | Fayetteville, GA |
| Zachary Turnage | AE | Kennesaw, GA |