Description
The Swing Space Champs is an ISYE Senior Design Team which serves the Georgia Tech Capital Planning and Space Management Department (CPSM). CPSM helps campus space users such as Department Chairs or Deans efficiently manage their assigned spaces. During the planning of a renovation or new construction on campus, CPSM works with affected space owners to define required swing space while the specific buildings are offline. With this, CPSM makes a recommendation on the construction duration and temporary relocation plan to the Georgia Tech Executive Leadership team.

Swing Space is the available space that is assigned to other space managers that can temporarily be reallocated to accommodate displaced capacity. Construction is typically conducted through multiple phases due to current doubts in the ability to displace an entire building worth of classrooms. This usually means renovations last over extended periods of time, which drives up construction costs.

In order to increase savings and reduce construction costs, our team aims to provide alternate solutions, a feasibility study to discuss tradeoffs between capacity reduction and alternative class times, and visualizations to help CPSM convince decision makers that more renovations can be completed through single-phased approaches. Additionally, our team aims to provide an efficient way to locate available swing space.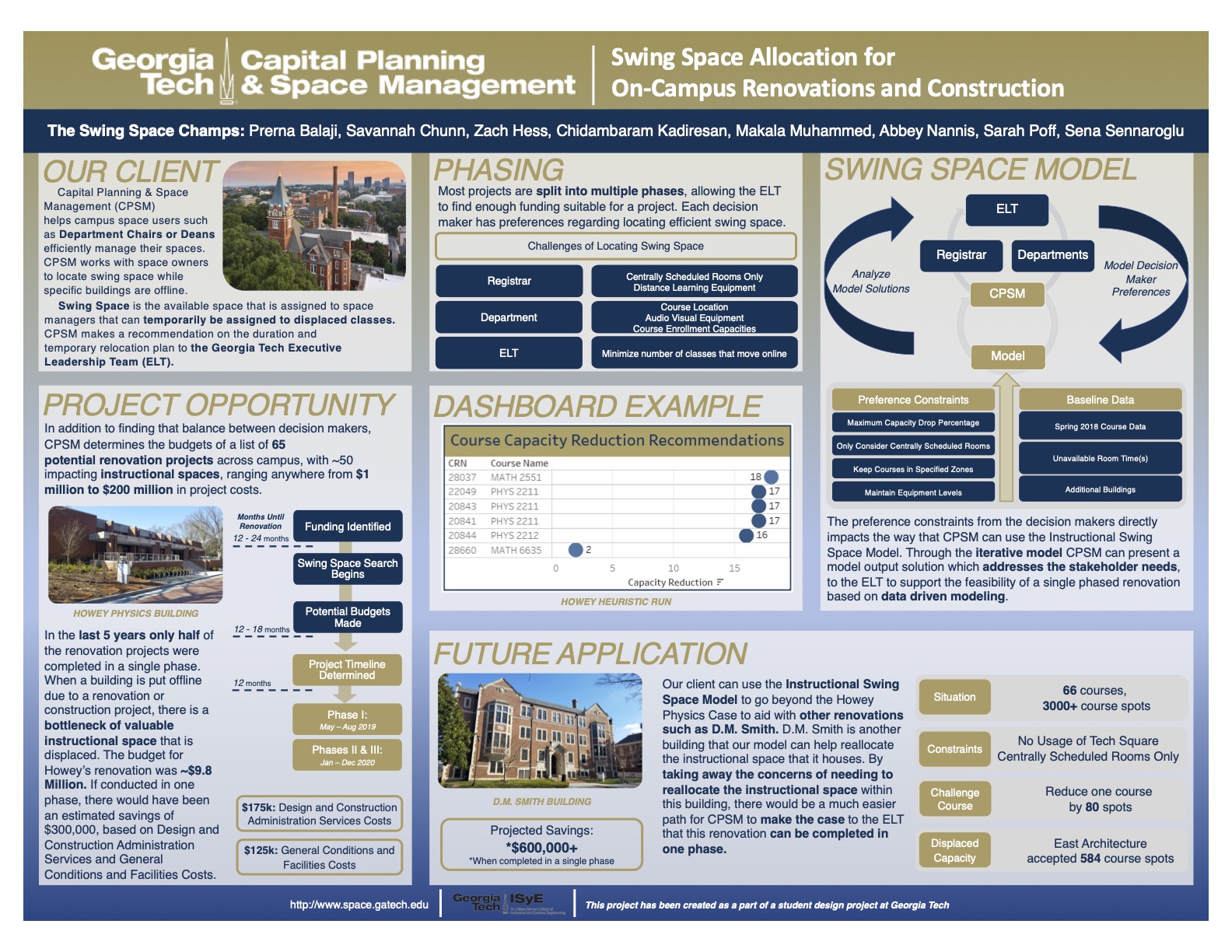 | | |
| --- | --- |
| Department | Industrial & Systems Engineering |
| Sponsor | Jimmie Hardin |
| Advisor | Dr. Steven A. Hackman |
| Primary Email Contact | aayanamakala@gatech.edu |
| Table # | 09-E |
Members
| Name | Major | Hometown |
| --- | --- | --- |
| Abigail Nannis | IE | Buford, GA |
| Chidambaram Kadiresan | IE | Suwanee, Ga |
| Makala Muhammed | IE | Atlanta, Georgia |
| Prerna Balaji | IE | Marietta, Ga |
| Sarah Poff | IE | Vestavia Hills, Al |
| Savannah Chunn | IE | Suwanee, Ga |
| Sena Sennaroglu | IE | Istanbul, Turkey |
| Zachary Hess | IE | Lancaster, PA |